Feedback received:


Julia Roberts Success! - May 29th, 2018
Sent: LOR, SAE, 1 photo!! 12.03.2018 Rec.: 1 photo! 22.04.2018 Used this address: Homecoming Universal Cable Productions 100 Universal City Plaza Universal City, CA 91608 United States Very happy http://surfmypictures.com/image/b2dd513 ... 40m31.html

---

Comment | View 6 comment(s)
---
Julia Roberts RTS - November 25th, 2017 | Address reported as RTS


I sent a LOR and SASE to Julia Roberts on Oct. 1 2017. My letter was returned to me on Oct. 22 2017. Address used- Red Om Films, Inc. 16 West 19th Street 12th Floor New York, NY 10011 Uploaded with ###://surfmypictures.com:surfmypictures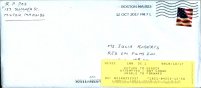 ---

Comment | View 1 comment(s)
---
julia roberts rts - February 1st, 2017 | Address reported as RTS


Hello I am a big fan of the movie "Hook" I would like a collection of characters from that movie . I have Dustin Hoffman and I have Robin Williams so I was looking through Julia Roberts address so I tried one and today came back as a return to sender . so I would love to know if I will ever get an autograph from Julia Roberts by mail. Return To Sender Julia Roberts 6220 Del Valle Drive Los Angeles m CA 90048 USA Return to sender The reason just said return to sender unable to forward I was disappointed so just through the envelope out.
---

Comment | View 5 comment(s)
---