---
Primary address:

Erin Sanders
10063 Riverside Drive
Box 2485
Toluca Lake, CA 91610
USA
Address information:


(Post-office Box)
10063 Riverside Drive
Box 2485
Toluca Lake, CA 91610
USA
Phone:
Fax:

Note: For an autographed picture send $2 USD
View larger map


---
Secondary address:

Erin Sanders
Monster Talent Management, Inc.
6333 West Third Street
Suite 912
Los Angeles, CA 90036
USA

Not an updated address?
Please let us know!
Address information:

Monster Talent Management, Inc.
(Talent Management Company)
6333 West Third Street
Suite 912
Los Angeles, CA 90036
USA
Phone: (323) 965-9696
Fax: (323) 965-0713
Official website
Note:
View larger map


---
How to send your fan mail and autograph requests to Erin Sanders?:


If you want to request an autograph, follow the guidelines bellow. If you just want to mail a letter with the address above, and do not want anything back, then you can stop reading! If you live in USA send a properly stamped and self addressed envelope (minimum size 8.5" x 4") with your request letter and a photo. You can include a piece of cardboard to keep the photo from bending in shipping and also add "Do Not Bend" on the envelopes. Send your letter and wait. On average, there is going to be a 3+ month wait for a response. If you do not live in USA, you can purchase your american stamps here *For information on postage prices to receive a letter from USA click here.
---
Feedback received:


Erin Sanders TTM Success - June 21st, 2017
She wrote back quickly, personalized both pics I sent! Used address in database. Uploaded with ###://surfmypictures.com:surfmypictures

---

Comment | View 1 comment(s)
---
Erin Sanders success - January 12th, 2017
I sent a LOR and a SAE to the address on her website http://erinsanders.com/contact/ on 14/9/16, and today I received a signed and personalised photo Erin Sanders 10063 Riverside Dr. #2485 Toluca Lake, CA 91610, USA Thank you so much Ms. Sanders



---

Comment | View 1 comment(s)
---
Erin sanders ?? - July 18th, 2015
So this is my second successful Erin Sanders. This one took over a year to receive back. I wrote to her address on her website, which is the same address as the return address. I got it in the mail today Sent photo, LOR, and $2 I honestly even forgot I sent this.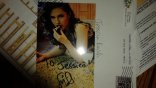 ---

Comment | View 1 comment(s)
---