Feedback received:


Erin Sanders TTM Success - June 21st, 2017
She wrote back quickly, personalized both pics I sent! Used address in database. Uploaded with ###://surfmypictures.com:surfmypictures

---

Comment | View 1 comment(s)
---
Erin Sanders success - January 12th, 2017
I sent a LOR and a SAE to the address on her website http://erinsanders.com/contact/ on 14/9/16, and today I received a signed and personalised photo Erin Sanders 10063 Riverside Dr. #2485 Toluca Lake, CA 91610, USA Thank you so much Ms. Sanders



---

Comment | View 1 comment(s)
---
Erin sanders ?? - July 18th, 2015
So this is my second successful Erin Sanders. This one took over a year to receive back. I wrote to her address on her website, which is the same address as the return address. I got it in the mail today Sent photo, LOR, and $2 I honestly even forgot I sent this.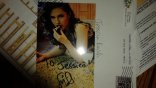 ---

Comment | View 1 comment(s)
---