Feedback received:


Gordon Ramsay Success - June 7th, 2017
Sent LOR, SAE with $2, and 2 photos to address in database on 5/19/2017, received photos back today unsigned but they included their own signed photo and the standard letter. The signature looks similar to the previous posted success but in a different spot, so I'm thinking it's real. Comments on authenticity welcome, but please use constructive criticism. Gordon Ramsay Gordon Ramsay Holdings 539-547 Wandsworth Road London SW8 3JD UK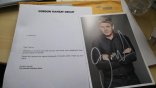 ---

Comment | View 5 comment(s)
---
Gordon Ramsay partial success - May 16th, 2017
Sent two photos and LOR to database address, received both my photos back unsigned and presigned photo and letter (since it was presigned and not a preprint I still consider this a success even though he didn't sign the ones I sent)

---

Comment | View 10 comment(s)
---
Gordon Ramsay Success - March 7th, 2017
Sent fan mail on Feb 20th and received an autographed photo and nice thank you for being a fan letter on March 7th. Address used: Gordon Ramsay Holdings, 539-547 Wandsworth Road, London, SW8 3JD England. Just FYI: For all international mail you need 3 US postage stamps.
---

Comment | View 1 comment(s)
---