---
Primary address:

Frisco RoughRiders
Dr Pepper Ballpark
7300 RoughRiders
Trail Frisco, TX 75034
USA
Address information:


(Baseball Stadium)
Dr Pepper Ballpark
7300 RoughRiders
Trail Frisco, TX 75034
USA
Phone: (972) 334-1900
Fax:
Official website
Note:
View larger map


---
Players you can contact at this address (2020 season):


Ryan Dorow (3rd baseman), Charles Leblanc (2nd baseman), Collin Wiles (Pitcher), Darel Torres (Pitcher), Reid Anderson (Pitcher), Matt Bush (Pitcher), Hunter Cole (Right fielder), Sal Mendez (Pitcher), Kevin Mendoza (Catcher), Clayton Middleton (Catcher), Melvin Novoa (Catcher), Jeifry Nunez (Pitcher), Locke St. John (Pitcher), Curtis Terry (1st baseman).
---
How to send your fan mail and autograph requests to Frisco RoughRiders?:


If you want to request an autograph, follow the guidelines bellow. If you just want to mail a letter with the address above, and do not want anything back, then you can stop reading! If you live in USA send a properly stamped and self addressed envelope (minimum size 8.5" x 4") with your request letter and a photo. You can include a piece of cardboard to keep the photo from bending in shipping and also add "Do Not Bend" on the envelopes. Send your letter and wait. On average, there is going to be a 3+ month wait for a response. If you do not live in USA, you can purchase your american stamps here *For information on postage prices to receive a letter from USA click here.
---
Feedback received:


Lewis Brinson MiLB Success (Frisco RoughRiders) - September 10th, 2016
Sent LOR, SASE and TC to: Mr. Lewis Brinson c/o Frisco RoughRiders Dr. Pepper Ballpark 7300 RoughRiders Trail Frisco, TX 75034 Received my card back signed. Sent: 7/22/16 Received: 9/10/16 Uploaded with ###://surfmypictures.com:surfmypictures Uploaded with ###://surfmypictures.com:surfmypictures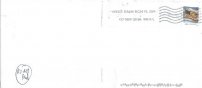 ---

Comment | View 1 comment(s)
---