Feedback received:


Richard Anderson - Six Million Dollar Man - September 21st, 2014
I wrote Richard a full page letter, expressing my admiration for the television show Six Million Dollar Man. It was a basic letter and didn't necessarily require any specific reply. I had sent it from Canada and without any return postage due to the Canadian/US stamp difference. I received back a small envelope, hand typed by a typewriter (yes typewriter). Inside was an index card with a low resolution printing of Richard and signed in marker to me. I've edited out my name. I'm pleased that he wrote back, considering that he had to pay the postage. At the same time I had hoped for a hand written letter answering a few of the questions I had. Perhaps his fan mail volume is quite high. I picture him with a whole drawer of these cards that he just whips in the mail after reading the fan mail. Quite pleased but feeling a little disappointed.... I'll get over it though. Sent to his Cielo Drive Address.

---

Comment | View 2 comment(s)
---
Richard Anderson success - August 25th, 2014
Richard Anderson success using the address in the database : Richard Anderson 10120 Cielo Drive Beverly Hills, CA 90210-2037 USA Sent a SASE, letter and 2 photos and a Six Millon Dollar trading card, he returned both photos signed but not personnalized but did not sign the trading card. sent 08.11.14, received 08.25.14 (did not keep the envelope, nothing special on it except my address and an ink stamp with his address (sender)) and the pics :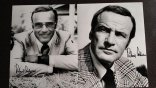 ---

Comment | View 2 comment(s)
---
Richard Anderson - May 20th, 2014
Sent a SASE to Mr. Anderson on March 29. Received it back today. Used the address in Fanmail.
---

Comment | View 3 comment(s)
---