---
---
Players you can contact at this address (2018-2019 season):


Ryan Callahan (Right wing), Alex Killorn (Left wing), Ryan McDonagh (Defenseman), Steven Stamkos (Center), Tyler Johnson (Center), Victor Hedman (Defenseman), Louis Domingue (Goalie), Ondrej Palat (Left wing), Nikita Kucherov (Right wing), Yanni Gourde (Center), Andrei Vasilevskiy (Goalie), Brayden Point (Center), Anthony Cirelli (Center), Mikhail Sergachev (Defenseman), Adam Erne (Forward), Erik Cernak (Defenseman), Mathieu Joseph (Forward), Jan Rutta (Defenseman), Braydon Coburn (Defenseman), Luke Schenn (Defenseman), Luke Witkowski (Defenseman), Cedric Paquette (Forward), Danick Martel (Forward).
---
How to send your fan mail and autograph requests to Tampa Bay Lightning?:


If you want to request an autograph, follow the guidelines bellow. If you just want to mail a letter with the address above, and do not want anything back, then you can stop reading! If you live in USA send a properly stamped and self addressed envelope (minimum size 8.5" x 4") with your request letter and a photo. You can include a piece of cardboard to keep the photo from bending in shipping and also add "Do Not Bend" on the envelopes. Send your letter and wait. On average, there is going to be a 3+ month wait for a response. If you do not live in USA, you can purchase your american stamps here *For information on postage prices to receive a letter from USA click here.
---
Feedback received:


Steve Yzerman (former Tampa Bay Lightning GM) DNS - May 7th, 2019
I sent a SASE, trading card and a letter to former Tampa Bay Lightning GM Steve Yzerman on Nov. 3rd 2017. I got my card back (minus the top loader) unsigned and damaged from going through the postal service on May 6th 2019. I had used the Lightning arena address in the database; Tampa Bay Lightning Amalie Arena 401 Channelside Drive Tampa, FL 33602 USA http://surfmypictures.com/image/684abef0ae591007/rg099.htmlrl Uploaded with http://surfmypictures.comsurfmypicturesrl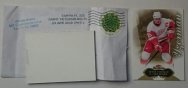 ---

Comment | View 3 comment(s)
---
Pat Verbeek NHL Success (Tampa Bay Lightning) - March 4th, 2019
Sent LOR, SASE, and 2 TC's to Pat Verbeek in October. Got both of them back signed today. Pat Verbeek c/o Tampa Bay Lightning 401 CHANNELSIDE DRIVE TAMPA, FL 33602
---

Comment | View 1 comment(s)
---
Chris Gratton (fmr Tampa Bay Lightning Center) success - February 27th, 2019
Sent him a TC on 2-9-19 and got it back signed today, 2-27-19. Here's addy I used: 79 St. Margarets Rd. Ancaster, ON L9G 2L1 Canada
---

Comment | View 1 comment(s)
---