---
---
Players you can contact at this address (2020 season):


Eguy Rosario (2nd baseman), Caleb Boushley (Pitcher), Olivier Basabe (Left fielder), Tom Cosgrove (Pitcher), Mason Fox (Pitcher), Edwuin Bencomo (Pitcher), Michael Cantu (Catcher), Efrain Contreras (Pitcher), Henry Henry (Pitcher), Osvaldo Hernandez (Pitcher), Reiss Knehr (Pitcher), Nick Kuzia (Pitcher), Adrian Martinez (Pitcher), Felix Minjarez (Pitcher), Tirso Ornelas (Right fielder), Robbie Podorsky (Left fielder), Hansel Rodriguez (Pitcher), Jeisson Rosario (Center fielder), Esteury Ruiz (2nd baseman), Fred Schlichtholz (Pitcher), Lee Solomon (2nd baseman), Jack Suwinski (Left fielder), Mason Thompson (Pitcher), Cody Tyler (Pitcher), A.J. Brown (Outfielder), Matt Lachappa (Pitcher), Jordan Guerrero (Pitcher), Kelvin Melean (3rd baseman).
---
How to send your fan mail and autograph requests to Lake Elsinore Storm?:


If you want to request an autograph, follow the guidelines bellow. If you just want to mail a letter with the address above, and do not want anything back, then you can stop reading! If you live in USA send a properly stamped and self addressed envelope (minimum size 8.5" x 4") with your request letter and a photo. You can include a piece of cardboard to keep the photo from bending in shipping and also add "Do Not Bend" on the envelopes. Send your letter and wait. On average, there is going to be a 3+ month wait for a response. If you do not live in USA, you can purchase your american stamps here *For information on postage prices to receive a letter from USA click here.
---
Feedback received:


Xavier Nady MLB Success (Lake Elsinore Storm) - July 22nd, 2016
Sent LOR, SASE and TC to: Mr. Xavier Nady c/o Lake Elsinore Storm Baseball Club 500 Diamond Dr. Lake Elsinore, CA 92531 Received my card back signed. Sent: 6/16/16 Received: 7/22/16 Uploaded with ###://surfmypictures.com:surfmypictures Uploaded with ###://surfmypictures.com:surfmypictures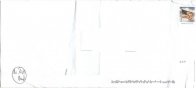 ---

Comment | View 1 comment(s)
---