Feedback received:


Christopher Lambert Success - November 3rd, 2014
M Christophe Lambert (Mr. Christopher Lambert) UBBA 6 rue de Braque 75003 Paris France Sent: July 2, 2014 Received: November 3, 2014 Sent LOR, two 3R photos, self-addressed envelope, and IRC. Received both photos back personalized with dedication in my SAE.

- - So happy! Hes one of the actors Ive been wanting to have an autograph of for about a decade now. Seeing recent successes, I sent a fanmail too and am very pleased with his reply. Merci Monsieur Christophe Lambert and Fanmail.biz!

Also, used Google Translate for the French translation of "Please do not bend." I hope thats correct. ^.^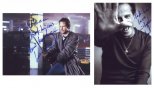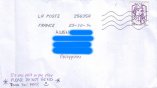 ---

Comment | View 2 comment(s)
---
Christopher Lambert success - March 5th, 2014
Christophe Lambert success using the address in the database : (request sent in november) Christopher Lambert UBBA 6 rue de Braque 75003 Paris France - - -


---

Comment | View 1 comment(s)
---
Christopher Lambert *success* ( 3x) - July 24th, 2012
yeeeeeessssssss


success of "Mr. Highlander" Christopher Lambert. I send SASE and 3 pictures to the address from the database.back all my pictures signed and dedicatet. 04.07.2012 - 24.07.12 - - - envelope: - thanx to Mr. Lambert and FanMail for the address

-->





---

Comment | View 1 comment(s)
---