---
---
Players you can contact at this address (2019 season):


Jonah Arenado (3rd baseman), Sam Wolff (Pitcher), Nolan Riggs (Pitcher), Melvin Adon (Pitcher), Brandon Beachy (Pitcher), Tyler Cyr (Pitcher), Johneshwy Fargas (Center fielder), Caleb Baragar (Pitcher), Gio Brusa (1st baseman), Alfred Gutierrez (Pitcher), Ryan Halstead (Pitcher), Jacob Heyward (Left fielder), Brett Austin (Catcher).
---
How to send your fan mail and autograph requests to Richmond Flying Squirrels?:


If you want to request an autograph, follow the guidelines bellow. If you just want to mail a letter with the address above, and do not want anything back, then you can stop reading! If you live in USA send a properly stamped and self addressed envelope (minimum size 8.5" x 4") with your request letter and a photo. You can include a piece of cardboard to keep the photo from bending in shipping and also add "Do Not Bend" on the envelopes. Send your letter and wait. On average, there is going to be a 3+ month wait for a response. If you do not live in USA, you can purchase your american stamps here *For information on postage prices to receive a letter from USA click here.
---
Feedback received:


Sam Coonrod MiLB Success (Richmond Flying Squirrels) - November 2nd, 2018
Sent LOR, SASE and TC to: Mr. Sam Coonrod c/o Richmond Flying Squirrels 3001 N. Boulevard Richmond, VA 23230 Received my card back signed and personalized. Sent: 5/30/18 Received: 11/2/18 Uploaded with ###://surfmypictures.com:surfmypictures Uploaded with ###://surfmypictures.com:surfmypictures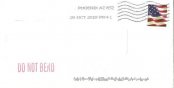 ---

Comment | View 1 comment(s)
---