Feedback received:


Ann B. Davis Success! - May 20th, 2014
Ann B. Davis Sent 4/28 Received 5/20 address: The Rt. Rev. William Frey 23315 Eagle Gap San Antonio, TX 78255-2103 - visit my facebook page and give it a like: https://www.facebook.com/pages/Fan-Girl ... 421?ref=hl

---

Comment | View 2 comment(s)
---
Ann B. Davis (The Brady Bunch) Success! - May 3rd, 2014
Sent 1 LOR, SASE and 8x10 to Ann B. Davis on 19/03/2014. On 22/04/2014, I received my photo signed. I used the San Antonio, Texas address in the database. Great to have another Brady Bunch legend in my collection.
---

Comment | View 1 comment(s)
---
Ann B. Davis Success - April 27th, 2014
I sent a LOR and SAE to Ms. Davis on February 15, 2014, I received a photo signed and personalized on March 30, 2014. Im very happy with this success, I loved her as Alice on The Brady Bunch! I sent to the address in the database. - -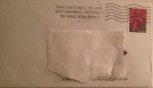 ---

Comment | View 4 comment(s)
---