---
---
---
How to send your fan mail and autograph requests to Bill Farmer?:


If you want to request an autograph, follow the guidelines bellow. If you just want to mail a letter with the address above, and do not want anything back, then you can stop reading! If you live in USA send a properly stamped and self addressed envelope (minimum size 8.5" x 4") with your request letter and a photo. You can include a piece of cardboard to keep the photo from bending in shipping and also add "Do Not Bend" on the envelopes. Send your letter and wait. On average, there is going to be a 3+ month wait for a response. If you do not live in USA, you can purchase your american stamps here *For information on postage prices to receive a letter from USA click here.
---
Feedback received:


Bill Farmer (Voice of Goofy and Pluto) Success! - August 14th, 2017
Sent: LOR, SASE, and picture 2.5 weeks ago Received: Different photo signed today, Aug 14, 2017 Image: http://surfmypictures.com/photo/e88eb35e2fad0e59/ec6yg/0814171649.jpg Envelope: http://surfmypictures.com/photo/e88eb35e2fad0e59/j7lmx/0814171650.png Bill Farmer Toonhouse, Inc. 4804 Laurel Canyon Blvd. Suite 183 Valley Village, CA 91607 USA Very excited to add this one to my collection to go along with Mickey

---

View 1 comment(s) | Comment
---
Bill Farmer (Goofy and Pluto) Success!! - October 8th, 2015
Sent an SASE, LOR and two 4X6 photos to Bill Farmer at the Disney Studios address in the database (although it came back from another address) between 5 and 6 weeks ago. Today I received both photos back signed and personalized!!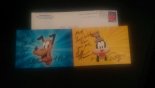 ---

View 3 comment(s) | Comment
---
Bill Farmer success - May 29th, 2015
LOR and SASE sent around 12/30/14. Received back in Mar '15. Address used: Bill Farmer The Walt Disney Studios 500 South Buena Vista St. Burbank, CA 91521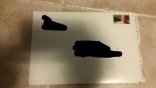 ---

View 4 comment(s) | Comment
---