---
---
---
How to send your fan mail and autograph requests to Dwayne Johnson?:


If you want to request an autograph, follow the guidelines bellow. If you just want to mail a letter with the address above, and do not want anything back, then you can stop reading! If you live in USA send a properly stamped and self addressed envelope (minimum size 8.5" x 4") with your request letter and a photo. You can include a piece of cardboard to keep the photo from bending in shipping and also add "Do Not Bend" on the envelopes. Send your letter and wait. On average, there is going to be a 3+ month wait for a response. If you do not live in USA, you can purchase your american stamps here *For information on postage prices to receive a letter from USA click here.
---
Feedback received:


Dwayne The Rock Johnson Success!!!! (Dwayne Johnson) - June 26th, 2020
Hey everyone, New here but wanted to post my success in emailing The Rock. Sent an email to therock at studiofanmail.com on May 10, 2020 and got back at what seems to be an Autopen Autograph today June 26th 2020. Pretty much is similar to a lot of the other pictures and nothing else was inside other than the signed picture. My first email to a fanmail has been successful!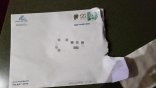 ---

Comment | View 3 comment(s)
---
Dwayne "The Rock" Johnson Email Success (AP) (Dwayne Johnson) - June 26th, 2020
I sent an email to the address in the database therock at studiofanmail.com on May 30th. Today, I received an auto-pen autograph from studio fan mail. Sent: May 30th 2020 Received: June 26th 2020 Wait: 27 Days. Despite the fact that it's an auto pen, it's still a pretty cool photo and i'm happy to add it to my collection. Can' t upload a picture since i'm using a different device, but it looks the same as all the others in the database.
---

Comment | View 7 comment(s)
---
the rock email success!! (Dwayne Johnson) - September 3rd, 2019
I sent an email to therock at studiofanmail.com and received a pp autograph 11 days later
---

Comment | View 2 comment(s)
---