---
---
Players you can contact at this address (2020 season):


Jose Appleton (Pitcher), Cooper Johnson (Catcher), Gio Arriera (Pitcher), Jack Kenley (Shortstop), Michael Bienlien (Pitcher), Andre Lipcius (3rd baseman), Yaya Chentouf (Pitcher), Isrrael De La Cruz (Pitcher), Sandel De La Cruz (Pitcher), Dayton Dugas (Left fielder), Carlos Guzman (Pitcher), Zack Hess (Pitcher).
---
How to send your fan mail and autograph requests to West Michigan Whitecaps?:


If you want to request an autograph, follow the guidelines bellow. If you just want to mail a letter with the address above, and do not want anything back, then you can stop reading! If you live in USA send a properly stamped and self addressed envelope (minimum size 8.5" x 4") with your request letter and a photo. You can include a piece of cardboard to keep the photo from bending in shipping and also add "Do Not Bend" on the envelopes. Send your letter and wait. On average, there is going to be a 3+ month wait for a response. If you do not live in USA, you can purchase your american stamps here *For information on postage prices to receive a letter from USA click here.
---
Feedback received:


Willie Blair Former (MLB) (West Michigan Whitecaps) RTS - June 4th, 2020 | Address reported as RTS


Willie Blair Former (MLB) RTS UNABLE TO FOWARD http://surfmypictures.com/image/3ebcf4c9de392a14/r4725.htmlrl Uploaded with http://surfmypictures.comsurfmypicturesrl

---

Comment | View 1 comment(s)
---
MLB Lance Parrish FAILURE 9/20/19 (West Michigan Whitecaps) - September 20th, 2019
Sent LOR, SASE, and 81 Donruss card on 7/30/19 to: Lance Parrish c/o West Michigan Whitecaps 4500 W River Dr NE Comstock Park, MI 49321. Got response 9/20/19 (52 days). Card returned unsigned. Included a 3x4 paper with a pre-printed message, price list, and mailing address. I'm apparently the only person who didn't have the info for getting his autograph, no idea how I missed it. http://surfmypictures.com/image/91463f007ad046d6/3063u.htmlrl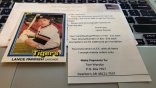 ---

Comment | View 1 comment(s)
---
MLB Willie Blair SUCCESS! 7/29/19 (West Michigan Whitecaps) - July 29th, 2019
Sent LOR, SASE, 91 Topps, and 01 Topps cards on 7/8/19 to the West Michigan Whitecaps (he's the pitching coach) at: Willie Blair c/o West Michigan Whitecaps 4500 W River Dr NE Comstock Park, MI 49321 Got response 7/29/19 (21 days) both cards returned, signed in blue marker. http://surfmypictures.com/image/25f3ad89acc11acd/8hdv3.html
---

Comment | View 1 comment(s)
---