---
Fan mail address:

Potomac Nationals
Northwest Federal Field at Pfitzner Stadium
7 County Complex Ct.
Woodbridge, VA 22192-9201
USA

Not an updated address?
Please let us know!
Address information:

Northwest Federal Field at Pfitzner Stadium
(Stadium)
7 County Complex Ct.
Woodbridge, VA 22192-9201
USA
Phone: (703) 590-2311
Fax: (703) 590-5716

Note:
View larger map


---
Players you can contact at this address (2020 season):


Telmito Agustin (Left fielder), Gage Canning (Center fielder), Alex Dunlap (Catcher), KJ Harrison (1st baseman), Gilbert Lara (3rd baseman), Angel Guillen (Pitcher), Gabe Klobosits (Pitcher), Tomas Alastre (Pitcher), Francys Peguero (Pitcher), Malvin Pena (Pitcher), Luis Reyes (Pitcher), Ryan Tapani (Pitcher), Jackson Tetreault (Pitcher), Aldrem Corredor (1st baseman), Alex Troop (Pitcher), Armond Upshaw (Center fielder).
---
How to send your fan mail and autograph requests to Potomac Nationals?:


If you want to request an autograph, follow the guidelines bellow. If you just want to mail a letter with the address above, and do not want anything back, then you can stop reading! If you live in USA send a properly stamped and self addressed envelope (minimum size 8.5" x 4") with your request letter and a photo. You can include a piece of cardboard to keep the photo from bending in shipping and also add "Do Not Bend" on the envelopes. Send your letter and wait. On average, there is going to be a 3+ month wait for a response. If you do not live in USA, you can purchase your american stamps here *For information on postage prices to receive a letter from USA click here.
---
Feedback received:


Rhett Wiseman MiLB Success (Potomac Nationals) - September 11th, 2018
Sent LOR, SASE and TC to: Mr. Rhett Wiseman c/o Potomac Nationals P.O. Box 2148 Woodbridge, VA 22195 Received my card back signed. Sent: 8/6/18 Received: 9/11/18 http://surfmypictures.com/image/5ac9707927862964/c40io.html:http://surfmypictures.com/photo/5ac9707927862964/c40io/Rhett_Wiseman.jpg Uploaded with http://surfmypictures.com:surfmypictures http://surfmypictures.com/image/5ac9707927862964/dwcwm.html:http://surfmypictures.com/photo/5ac9707927862964/dwcwm/RWE.jpg Uploaded with http://surfmypictures.com:surfmypictures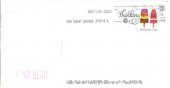 ---

Comment | View 1 comment(s)
---