---
---
---
Players / Coaching staff you can contact at this address (2019-2020 season):


Allonzo Trier, Kevin Knox, Mario Hezonja (F-G), Mitchell Robinson, Emmanuel Mudiay, Luke Kornet, Isaiah Hicks, Frank Ntilikina, Damyean Dotson, Lance Thomas, David Fizdale (Head Coach), Keith Smart (Assistant Coach), Jud Buechler (Assistant Coach), Pat Sullivan (Assistant Coach), Royal Ivey (Assistant Coach), Kaleb Canales (Assistant Coach), Roger Hinds (Trainer), Anthony Goenaga (Assistant Trainer), Kadeem Allen, Dennis Smith Jr., DeAndre Jordan, Henry Ellenson, John Jenkins, Noah Vonleh, Howard Eisley (Assistant Coach).
---
How to send your fan mail and autograph requests to the New York Knicks?:


If you want to request an autograph, follow the guidelines bellow. If you just want to mail a letter with the address above, and do not want anything back, then you can stop reading! If you live in USA send a properly stamped and self addressed envelope (minimum size 8.5" x 4") with your request letter and a photo. You can include a piece of cardboard to keep the photo from bending in shipping and also add "Do Not Bend" on the envelopes. Send your letter and wait. On average, there is going to be a 3+ month wait for a response. If you do not live in USA, you can purchase your american stamps here *For information on postage prices to receive a letter from USA click here.
---
Feedback received:


Kurt Rambis NBA Success (New York Knicks) - April 4th, 2016
Sent LOR, SASE and TC to: Mr. Kurt Rambis c/o New York Knicks Madison Square Garden Two Pennsylvania Plaza New York, NY 10121 Received my card back signed. Sent: 1/11/16 Received: 4/4/16 Uploaded with ###://surfmypictures.com:surfmypictures Uploaded with ###://surfmypictures.com:surfmypictures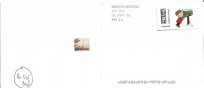 ---

Comment | View 1 comment(s)
---
Jason Kidd (NBA - New York Knicks) - Success - March 13th, 2013
Jason Kidd (N.Y. Knicks) Mailed: 11/27/12 (2) 5x7 2½ Month Turnaround Received: 2/7/13 Autographed Both Pictures Used address for the NY Knicks in the database -

---

Comment | View 1 comment(s)
---
NY Knicks Tyson Chandler Success! Certified! New York Knicks - October 2nd, 2012
Hello Collectors! I wrote the NY Knicks on 8th Aug requesting a fan pack. Today, I received a signed 8x10 from center and recent gold medalist Tyson Chandler. To make things even better, the photo came with it own Certificate of Authenticity! I was not expecting such a nice fan pack! Go Knicks!! Comments are welcomed! Go US Army! Robert -

---

Comment | View 4 comment(s)
---