---
---
Players you can contact at this address (2019 season):


Kevin Magee (Pitcher), Luke Ringhofer (1st baseman), Tristan Graham (Right fielder), Leonardo Rodriguez (Pitcher), Lenin Rodriguez (Catcher), Ryan Conroy (Pitcher), Malachi Emond (Pitcher), Andrew Daschbach (1st baseman), Ian Evans (1st baseman), Connor Gillispie (Pitcher), Jean Carmona (Shortstop), Marlon Constante (Pitcher), Dan Hammer (Pitcher), Maverick Handley (Catcher), Clay Fisher (Shortstop), Mason Janvrin (Outfielder), Jordan Cannon (Catcher), Craig Lewis (Outfielder), Jake Lyons (Pitcher), Kyle Martin (Pitcher), Juan Echevarria (Pitcher), Griffin McLarty (Pitcher), Dalton Hoiles (Right fielder), Joseph Ortiz (Shortstop), Dallas Litscher (Pitcher), Jonathan Pendergast (Pitcher), Juan Montes (1st baseman), Shelton Perkins (Pitcher), Trevor Putzig (3rd baseman), Jake Prizina (Pitcher), Willie Rios (Pitcher), Houston Roth (Pitcher), Yelin Rodriguez (Pitcher), James Ryan (Pitcher), Adam Stauffer (Pitcher), Kyle Stowers (Center fielder), Alexis Torres (2nd baseman), Harris Yett (Catcher), Trey Truitt (Center fielder), Easton Lucas (Pitcher).
---
How to send your fan mail and autograph requests to Aberdeen IronBirds?:


If you want to request an autograph, follow the guidelines bellow. If you just want to mail a letter with the address above, and do not want anything back, then you can stop reading! If you live in USA send a properly stamped and self addressed envelope (minimum size 8.5" x 4") with your request letter and a photo. You can include a piece of cardboard to keep the photo from bending in shipping and also add "Do Not Bend" on the envelopes. Send your letter and wait. On average, there is going to be a 3+ month wait for a response. If you do not live in USA, you can purchase your american stamps here *For information on postage prices to receive a letter from USA click here.
---
Feedback received:


Ryan O'Rourke MLB Success (Aberdeen IronBirds) - August 20th, 2018
Sent LOR, SASE and TC to: Mr. Ryan O'Rourke c/o Aberdeen IronBirds 873 Long Dr. Aberdeen, MD 21001 Received my card back signed. Sent: 8/11/18 Received: 8/20/18 Uploaded with ###://surfmypictures.com:surfmypictures Uploaded with ###://surfmypictures.com:surfmypictures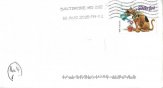 ---

Comment | View 1 comment(s)
---
MLB Tim Raines, Jr. Success (Aberdeen IronBirds) - August 6th, 2018
Sent a LOR, SASE, and TC to : Timothy Raines, Jr. c/o Aberdeen Ironbirds Leidos Field at Ripken Stadium 873 Long Dr Aberdeen, MD 21001 Sent : 7/3/18 Received : 8/6/18 http://surfmypictures.com/image/b3fe1a0 ... f9khr.html

---

Comment | View 1 comment(s)
---