---
---
Secondary address:

Toronto Blue Jays
Florida Auto Exchange Stadium
373 Douglas Avenue
Dunedin, FL 34698
USA

Not an updated address?
Please let us know!
Address information:

Florida Auto Exchange Stadium
(Baseball Stadium - Spring Training Camp)
373 Douglas Avenue
Dunedin, FL 34698
USA
Phone: (727) 733-0429
Fax:

Note: Address valid from February 15th to March 31st only.
View larger map


---
Players you can contact at this address (2020 season):


Anthony Alford (Left fielder), Sam Gaviglio (Pitcher), Randal Grichuk (Right fielder), Teoscar Hernandez (Left fielder), Danny Jansen (Catcher), Reese McGuire (Catcher), Thomas Pannone (Pitcher), Rowdy Tellez (1st baseman), Jonathan Davis (Center fielder), Brandon Drury (3rd baseman), Ken Giles (Pitcher), Billy McKinney (Left fielder), Julian Merryweather (Pitcher), Patrick Murphy (Pitcher), Hector Perez (Pitcher), Sean Reid-Foley (Pitcher), Jacob Waguespack (Pitcher), Trent Thornton (Pitcher), Vladimir Guerrero Jr. (3rd baseman), Cavan Biggio (2nd baseman), Jordan Romano (Pitcher), Wilmer Font (Pitcher), Bo Bichette (Shortstop), Derek Fisher (Right fielder), Anthony Kay (Pitcher), Elvis Luciano (Pitcher), T.J. Zeuch (Pitcher), Anthony Bass (Pitcher), Chase Anderson (Pitcher), Ryan Borucki (Pitcher), Santiago Espinal (2nd baseman), Lourdes Gurriel Jr. (Left fielder), Thomas Hatch (Pitcher), Matt Shoemaker (Pitcher), Tanner Roark (Pitcher), Shun Yamaguchi (Pitcher), Hyun-Jin Ryu (Pitcher), Travis Shaw (3rd baseman), Rafael Dolis (Pitcher), Joe Panik (2nd baseman).
---
How to send your fan mail and autograph requests to the Toronto Blue Jays?:


If you want to request an autograph, follow the guidelines bellow. If you just want to mail a letter with the address above, and do not want anything back, then you can stop reading! If you live in Canada send a properly stamped and self addressed envelope (minimum size 8.5" x 4") with your request letter and a photo. You can include a piece of cardboard to keep the photo from bending in shipping and also add "Do Not Bend" on the envelopes. Send your letter and wait. On average, there is going to be a 3+ month wait for a response. If you do not live in Canada, add several* International Reply Coupons. The International Reply Coupons (IRC) will be used by the receiver to purchase canadian stamps. You can only get them at your post office. Place the IRCs into the envelope, not on it. For more information on reply coupons click here. *For information on postage prices to receive a letter from Canada click here.
---
Feedback received:


Danny Jansen (Toronto Blue Jays) success! - February 19th, 2020
I sent a letter, a SASE, a 5x7 and a trading card to Toronto Blue Jays catcher Danny Jansen on March 25th 2019. I got my picture and my card back signed on Dec. 29th 2019! I used the Jays address in the database: Toronto Blue Jays Rogers Centre 1 Blue Jays Way Suite 3200 Toronto, ON M5V1J1
Uploaded with
---

Comment | View 2 comment(s)
---
Teoscar Hernández MLB Success (Toronto Blue Jays) - September 30th, 2019
Sent LOR, SASE and TC to: Mr. Teoscar Hernández c/o Toronto Blue Jays 3200-1 Blue Jays Way Toronto, ON M5V 1J1 Canada Received my card back signed. Sent: 5/10/19 Received: 9/30/19 http://surfmypictures.com/image/90eecb9a5468136a/25og1.htmlrl Uploaded with http://surfmypictures.comsurfmypicturesrl http://surfmypictures.com/image/90eecb9a5468136a/r66di.htmlrl Uploaded with http://surfmypictures.comsurfmypicturesrl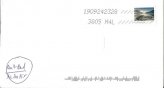 ---

Comment | View 1 comment(s)
---
Teoscar Hernandez (Toronto Blue Jays MLB) success! - September 28th, 2019
I sent a SASE, a letter and a 5x7 to Teoscar Hernandez of the Toronto Blue Jays on March 25th 2019. I got my picture back, autographed, on Sept 27th 2019! I used the Blue Jays address in the database: Mr. Teoscar Hernandez c/o Toronto Blue Jays Rogers Centre 1 Blue Jays Way Suite 3200 Toronto, ON M5V1J1 Canada http://surfmypictures.com/image/684abef0ae591007/063xt.htmlrl Uploaded with http://surfmypictures.comsurfmypicturesrl http://surfmypictures.com/image/684abef0ae591007/rp7js.htmlrl Uploaded with http://surfmypictures.comsurfmypicturesrl


---

Comment | View 3 comment(s)
---