---
---
Secondary address:

New York Yankees
George M. Steinbrenner Field
1 Steinbrenner Drive
Tampa, FL 33614
USA

Not an updated address?
Please let us know!
Address information:

George M. Steinbrenner Field
(Baseball Stadium - Spring Training Camp)
1 Steinbrenner Drive
Tampa, FL 33614
USA
Phone: (813) 879-2244
Fax:
Official website
Note: Address valid from February 15th to March 31st only.
View larger map


---
How to send your fan mail and autograph requests to the New York Yankees?:


If you want to request an autograph, follow the guidelines bellow. If you just want to mail a letter with the address above, and do not want anything back, then you can stop reading! If you live in USA send a properly stamped and self addressed envelope (minimum size 8.5" x 4") with your request letter and a photo. You can include a piece of cardboard to keep the photo from bending in shipping and also add "Do Not Bend" on the envelopes. Send your letter and wait. On average, there is going to be a 3+ month wait for a response. If you do not live in USA, you can purchase your american stamps here *For information on postage prices to receive a letter from USA click here.
---
Feedback received:


MLB Aaron Judge Success !! (New York Yankees) - February 8th, 2018
Hello ! Last October, I sent a letter to Aaron Judge for my mum and we were glad to receive the photo signed by his hand last friday

I used this address : Aaron Judge New York Yankees Yankee Stadium One East 161st Street The Bronx, New York, 10451 US And here is the picture

Uploaded with ###://surfmypictures.com:surfmypictures Have a nice day !

---

Comment | View 2 comment(s)
---
Mike Stanley (New York Yankees) Success - October 11th, 2017
On 2/21/2017, I sent a LOR, SASE, and baseball card to Mike Stanley at : Mike Stanley 1011 North Lake Sybelia Drive Maitland, FL 32751 On 10/10/2017, I received my baseball card back autographed. https://postimg.org/image/6vj3qkd36j/ddedcdd5/
---

Comment | View 1 comment(s)
---
MLB Mike Harkey Success (New York Yankees) - June 3rd, 2017
Sent a LOR, SASE, and 3 TCs to : Michael Harkey c/o New York Yankees Yankee Stadium 1 East 161st St Bronx, NY 10451 Sent : 5/23/17 Received : 6/3/17 http://surfmypictures.com/image/0f24b27 ... 94net.html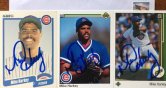 ---

Comment | View 1 comment(s)
---