---
---
Secondary address:

New York Mets
First Data Field
525 NW Peacock Blvd.
Port St Lucie, FL 34986-2210
USA

Not an updated address?
Please let us know!
Address information:

First Data Field
(Baseball Park - Spring Training Camp)
525 NW Peacock Blvd.
Port St Lucie, FL 34986-2210
USA
Phone: (772) 871-2100
Fax: (772) 785-6878
Official website
Note: Address valid from February 15th to March 31st only.
View larger map


---
Players you can contact at this address (2019 season):


Tyler Bashlor (Pitcher), Michael Conforto (Center fielder), Jacob deGrom (Pitcher), Chris Flexen (Pitcher), Todd Frazier (3rd baseman), Drew Gagnon (Pitcher), Robert Gsellman (Pitcher), Luis Guillorme (Shortstop), Seth Lugo (Pitcher), Steven Matz (Pitcher), Tomas Nido (Catcher), Corey Oswalt (Pitcher), Amed Rosario (Shortstop), Noah Syndergaard (Pitcher), Zack Wheeler (Pitcher), Robinson Cano (2nd baseman), J.D. Davis (3rd baseman), Edwin Diaz (Pitcher), Jeurys Familia (Pitcher), Franklyn Kilome (Pitcher), Walker Lockett (Pitcher), Jeff McNeil (2nd baseman), Wilson Ramos (Catcher), Justin Wilson (Pitcher), Daniel Zamora (Pitcher), Juan Lagares (Center fielder), Pete Alonso (1st baseman), Luis Avilan (Pitcher), Stephen Nogosek (Pitcher), Chris Mazza (Pitcher), Brad Brach (Pitcher), Joe Panik (2nd baseman), Rajai Davis (Center fielder), Rene Rivera (Catcher), Sam Haggerty (2nd baseman), Donnie Hart (Pitcher).
---
How to send your fan mail and autograph requests to the New York Mets?:


If you want to request an autograph, follow the guidelines bellow. If you just want to mail a letter with the address above, and do not want anything back, then you can stop reading! If you live in USA send a properly stamped and self addressed envelope (minimum size 8.5" x 4") with your request letter and a photo. You can include a piece of cardboard to keep the photo from bending in shipping and also add "Do Not Bend" on the envelopes. Send your letter and wait. On average, there is going to be a 3+ month wait for a response. If you do not live in USA, you can purchase your american stamps here *For information on postage prices to receive a letter from USA click here.
---
Feedback received:


MLB Gary DiSarcina SUCCESS! 8/10/19 (New York Mets) - August 10th, 2019
Sent LOR, SASE, 92 Studio, and 93 Leaf cards on 7/3/19 to the NY Mets (he's their 3rd base coach) at: Gary DiSarcina New York Mets - Citi Field 120-01 Roosevelt Ave. Flushing, N.Y 11368-1699 Got response 8/10/19 (37 days), both cards returned, signed in black marker. http://surfmypictures.com/image/25f3ad89acc11acd/ggu27.html

---

Comment | View 1 comment(s)
---
Gary DiSarcina MLB Success (New York Mets) - June 13th, 2019
Sent LOR, SASE and TC to: Mr. Gary DiSarcina c/o New York Mets 120-01 Roosevelt Ave. Queens, NY 11368 Received my card back signed. Sent: 5/28/19 Received: 6/13/19 http://surfmypictures.com/image/615466d297f629d6/eklsh.htmlrl Uploaded with http://surfmypictures.comsurfmypicturesrl http://surfmypictures.com/image/615466d297f629d6/t7kih.htmlrl Uploaded with http://surfmypictures.comsurfmypicturesrl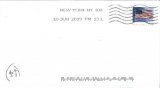 ---

Comment | View 1 comment(s)
---
MLB Chili Davis SUCCESS! 5/1/19 (New York Mets) - May 2nd, 2019
Sent LOR, SASE, and 94 Score card on 2/12/19 to the NY Mets spring training site in Port St. Lucie, FL. Got response 5/1/19 (78 days), card returned, signed in blue marker. http://surfmypictures.com/image/25f3ad89acc11acd/4sr9t.htmlrl

---

Comment | View 1 comment(s)
---