---
---
Secondary address:

Miami Marlins
Roger Dean Stadium
4751 Main Street
Jupiter, FL 33458
USA

Not an updated address?
Please let us know!
Address information:

Roger Dean Stadium
(Baseball Stadium - Spring Training Camp)
4751 Main Street
Jupiter, FL 33458
USA
Phone: (561) 775-1818
Fax: (561) 691-6886
Official website
Note: Address valid from February 15th to March 31st only.
View larger map


---
How to send your fan mail and autograph requests to the Miami Marlins?:


If you want to request an autograph, follow the guidelines bellow. If you just want to mail a letter with the address above, and do not want anything back, then you can stop reading! If you live in USA send a properly stamped and self addressed envelope (minimum size 8.5" x 4") with your request letter and a photo. You can include a piece of cardboard to keep the photo from bending in shipping and also add "Do Not Bend" on the envelopes. Send your letter and wait. On average, there is going to be a 3+ month wait for a response. If you do not live in USA, you can purchase your american stamps here *For information on postage prices to receive a letter from USA click here.
---
Feedback received:


Marlins MLB Fanpack (Miami Marlins) - December 11th, 2017
Sent about two months ago, received on 12/11. Quite a few things, a letter, three pictures, a domestic violence picture, 2018 magnet schedule, 2017 All Star banner, Play book, and a congratulations Ichiro 3000 sign that they creased and two stickers. Kind of funny, my only other fanpack I've received was the Astros. Marlins are having a firesale and they send me this huge packet, Astros just won the WS and sent me a sticker and a 2017 pocket schedule. The contrast is interesting.

---

Comment | View 1 comment(s)
---
Brad Ziegler (MLB Player) Success (Miami Marlins) - October 11th, 2017
Sent: 8/12/2017 2 photos Received: 10/05/2017 1 photo signed Sent c/o Miami Marlins http://surfmypictures.com/photo/f566188 ... ESS111.jpg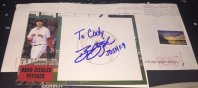 ---

Comment | View 1 comment(s)
---
MLB Tim Wallach Success (Miami Marlins) - October 11th, 2017
Sent a LOR, SASE, and 3 TCs to : Timothy Wallach c/o Miami Marlins Marlins Park 501 Marlins Way Miami, FL 33125 Sent : 7/20/17 Received : 10/11/17 Envelope was stamped from Santa Ana, CA. http://surfmypictures.com/image/1f78dd4 ... hdby7.html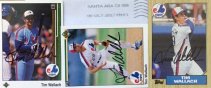 ---

Comment | View 1 comment(s)
---