---
---
Secondary address:

Cincinnati Reds
Cincinnati Reds Complex
3125 S. Wood Blvd.
Goodyear, AZ 85338
USA

Not an updated address?
Please let us know!
Address information:

Cincinnati Reds Complex
(Training Facility - Spring Training Camp)
3125 S. Wood Blvd.
Goodyear, AZ 85338
USA
Phone: (623) 932-6590
Fax:
Official website
Note: Address valid from February 15th to March 31st only.
View larger map


---
Players you can contact at this address (2019 season):


Tucker Barnhart (Catcher), Alex Blandino (3rd baseman), Curt Casali (Catcher), Luis Castillo (Pitcher), Anthony DeSclafani (Pitcher), Phillip Ervin (Left fielder), Amir Garrett (Pitcher), Raisel Iglesias (Pitcher), Michael Lorenzen (Pitcher), Tyler Mahle (Pitcher), Keury Mella (Pitcher), Jose Peraza (Shortstop), Sal Romano (Pitcher), Scott Schebler (Right fielder), Jose Siri (Center fielder), Jackson Stephens (Pitcher), Robert Stephenson (Pitcher), Eugenio Suarez (3rd baseman), Joey Votto (1st baseman), Jesse Winker (Right fielder), Matt Bowman (Pitcher), Kyle Farmer (Catcher), Sonny Gray (Pitcher), Jimmy Herget (Pitcher), Lucas Sims (Pitcher), Derek Dietrich (Left fielder), Jose Iglesias (Shortstop), Nick Senzel (Left fielder), Josh VanMeter (2nd baseman), R.J. Alaniz (Pitcher), Cody Reed (Pitcher), Juan Graterol (Catcher), Aristides Aquino (Right fielder), Trevor Bauer (Pitcher), Freddy Galvis (Shortstop), Kevin Gausman (Pitcher), Joel Kuhnel (Pitcher), Brian O'Grady (1st baseman), Alex Wood (Pitcher), Christian Colon (2nd baseman).
---
How to send your fan mail and autograph requests to the Cincinnati Reds?:


If you want to request an autograph, follow the guidelines bellow. If you just want to mail a letter with the address above, and do not want anything back, then you can stop reading! If you live in USA send a properly stamped and self addressed envelope (minimum size 8.5" x 4") with your request letter and a photo. You can include a piece of cardboard to keep the photo from bending in shipping and also add "Do Not Bend" on the envelopes. Send your letter and wait. On average, there is going to be a 3+ month wait for a response. If you do not live in USA, you can purchase your american stamps here *For information on postage prices to receive a letter from USA click here.
---
Feedback received:


MLB Milt Thompson SUCCESS! 9/23/19 (Cincinnati Reds) - September 23rd, 2019
Sent LOR, SASE, 89 Donruss, and 92 Topps cards on 7/15/19 to the Cincinnati Reds (he's their minor league hitting coordinator) at: Milt Thompson c/o Cincinnati Reds 100 Joe Nuxhall Way Cincinnati, OH 45202. Got response 9/23/19 (70 days), both cards returned, signed in black marker. It's postmarked NJ, which is where he lives.
---

Comment | View 1 comment(s)
---
Luis Castiillo Cincinnati Reds Spring Training success - August 1st, 2019
Sent: February 10, 2019 Received: July 31, 2019 Luis Castillo Cincinnati Reds 3125 S. Wood Blvd Goodyear, AZ 85338 Check out my other successes at my website: https://www.freewebs.com/bertmc/welcome2.html


---

Comment | View 1 comment(s)
---
MLB Marty Brennaman SUCCESS! 7/10/19 (Cincinnati Reds) - July 11th, 2019
Sent LOR, SASE, and personalized index card on 6/24/19 to: Marty Brennaman 100 Joe Nuxhall Way c/o Cincinnati Reds Cincinnati, OH 45202 Got response 7/10/19 (16 days), index card returned, signed in black marker. http://s1344.photobucket.com/user/dgrooms72/media/Autographs%20Through%20The%20Mail%20and%20In-Person/IMG_3093_zps299q95g3.jpg.html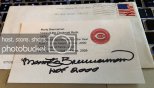 ---

Comment | View 1 comment(s)
---