---
---
Secondary address:

Boston Red Sox
JetBlue Park
11500 Fenway South Drive
Fort Myers, FL 33913
USA

Not an updated address?
Please let us know!
Address information:

JetBlue Park
(Baseball Park - Spring Training Camp)
11500 Fenway South Drive
Fort Myers, FL 33913
USA
Phone: (239) 334-4700
Fax:
Official website
Note: Address valid from February 15th to March 31st only.
View larger map


---
Players you can contact at this address (2019 season):


Matt Barnes (Pitcher), Andrew Benintendi (Left fielder), Mookie Betts (Right fielder), Xander Bogaerts (Shortstop), Jackie Bradley Jr. (Center fielder), Ryan Brasier (Pitcher), Rafael Devers (3rd baseman), Heath Hembree (Pitcher), Brock Holt (2nd baseman), Brian Johnson (Pitcher), Tzu-Wei Lin (Shortstop), J.D. Martinez (Left fielder), Mitch Moreland (1st baseman), Rick Porcello (Pitcher), Bobby Poyner (Pitcher), David Price (Pitcher), Eduardo Rodriguez (Pitcher), Sam Travis (1st baseman), Christian Vazquez (Catcher), Hector Velazquez (Pitcher), Marcus Walden (Pitcher), Brandon Workman (Pitcher), Colten Brewer (Pitcher), Marco Hernandez (3rd baseman), Michael Chavis (3rd baseman), Darwinzon Hernandez (Pitcher), Travis Lakins (Pitcher), Denyi Reyes (Pitcher), Josh Taylor (Pitcher), Sandy Leon (Catcher), Josh A. Smith (Pitcher), Ryan Weber (Pitcher), Mike Shawaryn (Pitcher), Trevor Kelley (Pitcher), Andrew Cashner (Pitcher), Nathan Eovaldi (Pitcher), Chris Owings (2nd baseman), Juan Centeno (Catcher), Jhoulys Chacin (Pitcher).
---
How to send your fan mail and autograph requests to the Boston Red Sox?:


If you want to request an autograph, follow the guidelines bellow. If you just want to mail a letter with the address above, and do not want anything back, then you can stop reading! If you live in USA send a properly stamped and self addressed envelope (minimum size 8.5" x 4") with your request letter and a photo. You can include a piece of cardboard to keep the photo from bending in shipping and also add "Do Not Bend" on the envelopes. Send your letter and wait. On average, there is going to be a 3+ month wait for a response. If you do not live in USA, you can purchase your american stamps here *For information on postage prices to receive a letter from USA click here.
---
Feedback received:


MLB Ron Roenicke SUCCESS! 8/2/19 (Boston Red Sox) - August 3rd, 2019
Sent LOR, SASE, 86 & 88 Topps cards on 7/8/19 to the Red Sox (he's the bench coach) at: Ron Roenicke c/o Boston Red Sox 4 Yawkey Way Boston, MA 02215 Got response 8/2/19 (25 days), both cards returned, signed in blue marker. http://surfmypictures.com/image/25f3ad89acc11acd/2do8j.html

---

Comment | View 1 comment(s)
---
Boston Red Sox Fan Pack Success - July 10th, 2019
Send email to fanfeedback at redsox.mlb.com Send date: June 3, 2019 Receive date: July 10, 2019 http://surfmypictures.com/image/2f7613440ecdcb9a/kynyr.htmlrl Uploaded with http://surfmypictures.comsurfmypicturesrl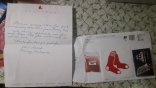 ---

Comment | View 1 comment(s)
---
Tony La Russa MLB Success (Boston Red Sox) - June 13th, 2019
Sent 6/1/19 Received 6/13/19 12 days 1/1 Sent to: C/O Boston Red Sox

---

Comment | View 1 comment(s)
---