---
---
Secondary address:

Atlanta Braves
Champion Stadium
ESPN Wide World of Sports Complex
700 S. Victory Way
Kissimmee, FL 34747-4100
USA

Not an updated address?
Please let us know!
Address information:

Champion Stadium
(Baseball Stadium - Spring Training Camp)
ESPN Wide World of Sports Complex
700 S. Victory Way
Kissimmee, FL 34747-4100
USA
Phone: (407) 939-4263
Fax:
Official website
Note: Address valid from February 15th to March 31st only.
View larger map


---
Players you can contact at this address (2019 season):


Ronald Acuna Jr. (Left fielder), Ozzie Albies (2nd baseman), Johan Camargo (3rd baseman), Shane Carle (Pitcher), Charlie Culberson (Left fielder), Tyler Flowers (Catcher), Mike Foltynewicz (Pitcher), Freddie Freeman (1st baseman), Max Fried (Pitcher), Luiz Gohara (Pitcher), Ender Inciarte (Center fielder), Luke Jackson (Pitcher), Nick Markakis (Right fielder), A.J. Minter (Pitcher), Sean Newcomb (Pitcher), Wes Parsons (Pitcher), Dansby Swanson (Shortstop), Julio Teheran (Pitcher), Dan Winkler (Pitcher), Kolby Allard (Pitcher), Grant Dayton (Pitcher), Josh Donaldson (3rd baseman), Adam Duvall (Left fielder), Kevin Gausman (Pitcher), Alex Jackson (Catcher), Brian McCann (Catcher), Chad Sobotka (Pitcher), Touki Toussaint (Pitcher), Jacob Webb (Pitcher), Patrick Weigel (Pitcher), Bryse Wilson (Pitcher), Kyle Wright (Pitcher), Huascar Ynoa (Pitcher), Mike Soroka (Pitcher), Matt Joyce (Left fielder), Josh Tomlin (Pitcher), Jerry Blevins (Pitcher), Austin Riley (3rd baseman), Anthony Swarzak (Pitcher), Dallas Keuchel (Pitcher).
---
How to send your fan mail and autograph requests to the Atlanta Braves?:


If you want to request an autograph, follow the guidelines bellow. If you just want to mail a letter with the address above, and do not want anything back, then you can stop reading! If you live in USA send a properly stamped and self addressed envelope (minimum size 8.5" x 4") with your request letter and a photo. You can include a piece of cardboard to keep the photo from bending in shipping and also add "Do Not Bend" on the envelopes. Send your letter and wait. On average, there is going to be a 3+ month wait for a response. If you do not live in USA, you can purchase your american stamps here *For information on postage prices to receive a letter from USA click here.
---
Feedback received:


Ron Washington MLB Success (Atlanta Braves) - July 9th, 2019
Sent LOR, SASE and TC to: Mr. Ron Washington c/o Atlanta Braves 755 Battery Ave. Atlanta, GA 30339 Received my card back signed. Sent: 6/10/19 Received: 7/9/19 http://surfmypictures.com/image/bbd648cd9c636ded/zcqfv.htmlrl Uploaded with http://surfmypictures.comsurfmypicturesrl http://surfmypictures.com/image/bbd648cd9c636ded/k8mt2.htmlrl Uploaded with http://surfmypictures.comsurfmypicturesrl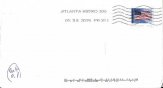 ---

Comment | View 1 comment(s)
---
John Schuerholz MLB Success (Atlanta Braves) - June 7th, 2019
Sent 6/1/19 Received 6/7/19 6 days 1/1 Address: C/O Atlanta Braves Was great fun growing up in Atlanta while he was running the Braves, even added HOF 2017 without me asking

---

Comment | View 2 comment(s)
---
Atlanta Braves Via Email Fanpack Success - May 21st, 2019
Atlanta Braves Via Email Fanpack Success http://surfmypictures.com/image/bdc121f4cb3d4622/cybzl.html http://surfmypictures.com/image/bdc121f4cb3d4622/9kx0t.html


---

Comment | View 1 comment(s)
---