Feedback received:


Cade McNown (Chicago Bears) Success - January 3rd, 2018
On 12/18/2017, I sent a LOR, SASE, and football card to Cade McNown at : Cade McNown C/O Kayne Anderson Capital 1800 Avenue of the Stars Floor #3 Los Angeles, CA 90067 On 1/2/2018, I received my football card back autographed. https://postimg.org/image/ozo1gabol/d2891de5/
---

Comment | View 1 comment(s)
---
John Fox (Chicago Bears Head Coach) SUCCESS! - June 10th, 2017
I sent a letter, SASE, and three photos on May 18th and today I received them back signed! Address used: Mr. John Fox c/o Chicago Bears Soldier Field 1410 S. Museum Campus Drive Chicago, IL 60605 http://surfmypictures.com/image/0777486 ... 5h5ly.html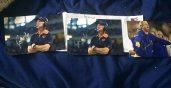 ---

Comment | View 1 comment(s)
---
Jay Cutler (Chicago Bears DUD) - April 14th, 2016
Jay Cutler (Chicago Bears QB) Mailed: August 2012 (2) 8½x11 3½ Year Turnaround Received: 1/29/16 Auto Pen OK... I have a lot to say here about this. I've been a Chi-town fan for a LONG time. As a little kid my 85 Bears team was what pulled me to this team. However since McMahon we could never find a QB. Even McMahon wasn't amazing, he was just "Good Enough". So when we got Cutler 6 years ago I thought WOW what luck. I stood by him year after year, losing more faith in him as the years went by. I dud of a QB that has a million dollar arm & a 10 cent head. So when I got this autograph I was about at an all time low on what I thought about him. Then I open this 8-1/2x11 package. WHAT!! JAY ACTUALLY SIGNED!! Then I look closer, a freakin AUTO PEN. So let me get this straight, it takes your assistant 3 1/2 years to open my mail, run it through a machine to stamp signatures on them & return it. If I got an AP back within 6 months it wouldn't be a big deal, but to keep something for over 3 years... WHAT!?!? Just the final nail in the Jay Cutler coffin. Was sent to the Chicago Bears training center in Illinois. Don't have the exact address.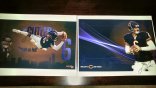 ---

Comment | View 1 comment(s)
---