Feedback received:


Former MLB Rick Dempsey Success - April 17th, 2023
Sent a LOR, a SASE, & 5 cards ('87 Topps to add to my autogrpahed set collection, '89 Topps, '89 Score 1988 WS, '91 Score, 1x MN Twins AC). All 5 cards were signed. He also inscribed MVP '83 WS on two cards & '88 WS Champs on three. Unfortunately I didn't have a card from when he played for the Twins but at least had an AC signed to add to my Twins collection. Sent: a couple months ago, sometime in January, can't remember exact date. Received: 04/17/23 Rick Dempsey 1673 Crown Ridge Ct Westlake Village, CA 91362-4731 USA http://surfmypictures.com/image/b88340f1224dedd0/29r56.htmlrl Uploaded with http://surfmypictures.comsurfmypicturesrl

---

Comment | View 1 comment(s)
---
MLB Rick Dempsey SUCCESS! 1/18/19 - January 18th, 2019
Sent LOR, SASE, 84 Donruss card and 89 Topps card to his Westlake Village, CA address 12/24/18. Got response 1/18/19 Both cards signed. The 84 Donruss was signed in black marker, and the 89 Topps was signed in blue marker. Thanks Mr. Dempsey! http://surfmypictures.com/image/9b6794556b7299b9/ajsgu.htmlrl

---

Comment | View 1 comment(s)
---
Patrick Dempsey failure - February 2nd, 2018
Sent: LoR, photo to be signed, index card to keep envelope stiff, and SASE on December 9th, 2017 Received: Letter and photo sent back with note scribbled on index card Address used: Patrick Dempsey 2121 Peachtree Industrial BLVD #STE 2A Buford, GA 30518 I can guarantee you that it was his real address; I heard something about him moving to a certain area in Georgia and found the address there. There was his age, middle initial, and it was in the rich part of that area, everything. But I still got this.... (However, I looked up his autographs and found one with his handwriting. I think the writing on the index card matches it the slightest bit, so I'm keeping it.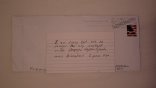 ---

Comment | View 1 comment(s)
---