---
---
Players you can contact at this address (2020 season):


Tanner Dodson (Center fielder), Tyler Frank (2nd baseman), Trey Cumbie (Pitcher), Connor Hollis (3rd baseman), Niko Hulsizer (Outfielder), Kaleo Johnson (3rd baseman), Resly Linares (Pitcher), Carlos Garcia (Pitcher), Justin Marsden (Pitcher), Tobias Myers (Pitcher), Jake Palomaki (2nd baseman), Joey Roach (Catcher), Simon Rosenblum-Larson (Pitcher), Zach Rutherford (3rd baseman), Phoenix Sanders (Pitcher), Michael Smith (Center fielder), Drew Strotman (Pitcher), Alex Valverde (Pitcher), Chris Betts (Catcher), Faustino Carrera (Pitcher), Nicholas Padilla (Pitcher), Joel Peguero (Pitcher), Izzy Wilson (Outfielder), Mikey York (Pitcher).
---
How to send your fan mail and autograph requests to Charlotte Stone Crabs?:


If you want to request an autograph, follow the guidelines bellow. If you just want to mail a letter with the address above, and do not want anything back, then you can stop reading! If you live in USA send a properly stamped and self addressed envelope (minimum size 8.5" x 4") with your request letter and a photo. You can include a piece of cardboard to keep the photo from bending in shipping and also add "Do Not Bend" on the envelopes. Send your letter and wait. On average, there is going to be a 3+ month wait for a response. If you do not live in USA, you can purchase your american stamps here *For information on postage prices to receive a letter from USA click here.
---
Feedback received:


Clawford MiLB Mascot Success (Charlotte Stone Crabs) - June 11th, 2020
Sent LOR, SASE, TC to Clawford of the Charlotte Stone Crabs on 4/16/20. Got the card back signed today, along with a personalized note and several 2020 pocket schedules. Clawford c/o Charlotte Stone Crabs 2300 El Jobean Rd Port Charlotte, FL 33948 http://surfmypictures.com/image/3305749f6820ee26/bzlqn.htmlrl

---

Comment | View 1 comment(s)
---
Lucius Fox MiLB Success (Charlotte Stone Crabs) - October 10th, 2017
Sent LOR, SASE and TC to: Mr. Lucius Fox c/o Charlotte Stone Crabs 2300 El Jobean Rd. Port Charlotte, FL 33948 Received my card back signed. Sent: 8/31/17 Received: 10/10/17 Uploaded with ###://surfmypictures.com:surfmypictures Uploaded with ###://surfmypictures.com:surfmypictures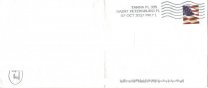 ---

Comment | View 1 comment(s)
---