---
---
Players / coaching staff (2018-2019 season):


Adbert Alzolay (P), Alberto Baldonado (P), Corey Black (P), David Bote (2B), Craig Brooks (P), Stephen Bruno (LF), Eddie Butler (P), Trevor Clifton (P), Chris Coghlan (LF), Casey Coleman (P), Ryan Court (3B), Taylor Davis (C), Mike Freeman (SS), Chris Gimenez (C), Jacob Hannemann (CF), Brad Markey (P), Trey Martin (CF), Cory Mazzoni (P), Dakota Mekkes (P), Alec Mills (P), James Norwood (P), Bijan Rademacher (RF), Will Remillard (C), Kyle Ryan (P), Ali Solis (C), Jen-Ho Tseng (P), Duane Underwood Jr. (P), Jason Vosler (3B), Chesny Young (2B), Mark Zagunis (RF), Rob Zastryzny (P),
---
How to send your fan mail and autograph requests to Iowa Cubs?:


If you want to request an autograph, follow the guidelines bellow. If you just want to mail a letter with the address above, and do not want anything back, then you can stop reading! If you live in Canada send a properly stamped and self addressed envelope (minimum size 8.5" x 4") with your request letter and a photo. You can include a piece of cardboard to keep the photo from bending in shipping and also add "Do Not Bend" on the envelopes. Send your letter and wait. On average, there is going to be a 3+ month wait for a response. If you do not live in Canada, add several* International Reply Coupons. The International Reply Coupons (IRC) will be used by the receiver to purchase canadian stamps. You can only get them at your post office. Place the IRCs into the envelope, not on it. For more information on reply coupons click here. *For information on postage prices to receive a letter from Canada click here.
---
Feedback received:


Pierce Johnson MiLB Success (Iowa Cubs) - October 21st, 2016
Sent LOR, SASE and TC to: Mr. Pierce Johnson c/o Iowa Cubs Principal Park One Line Dr. Des Moines, IA 50309 Received my card back signed. Sent: 7/7/16 Received: 10/21/16 Uploaded with ###://surfmypictures.com:surfmypictures Uploaded with ###://surfmypictures.com:surfmypictures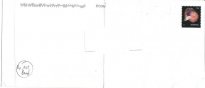 ---

Comment | View 1 comment(s)
---