---
Fan mail address:

Chase Elliott
Bill Elliott Racing Enterprises, Inc.
P.O. Box 1948
Dawsonville, GA, 30534
USA

Not an updated address?
Please let us know!
Address information:

Bill Elliott Racing Enterprises, Inc.
(Company)
P.O. Box 1948
Dawsonville, GA, 30534
USA
Phone: (706) 265-3030
Fax:

Note:
View larger map


---
How to send your fan mail and autograph requests to Chase Elliott?:


If you want to request an autograph, follow the guidelines bellow. If you just want to mail a letter with the address above, and do not want anything back, then you can stop reading! If you live in USA send a properly stamped and self addressed envelope (minimum size 8.5" x 4") with your request letter and a photo. You can include a piece of cardboard to keep the photo from bending in shipping and also add "Do Not Bend" on the envelopes. Send your letter and wait. On average, there is going to be a 3+ month wait for a response. If you do not live in USA, you can purchase your american stamps here *For information on postage prices to receive a letter from USA click here.
---
Feedback received:


Chase Elliott (NASCAR) - Success - April 3rd, 2020
I wrote to Chase Elliott on 2/28/2020, sending him a LOR & SASE. On 4/1/2020 (33 days total) I received an autographed card. My envelope was overkill with the size comparison, but I was thinking a hero card might be sent (at least that's what I thought according to his
). Honestly, I think this little card is cooler.

The address I used: Chase Elliott Chase Elliott Motorsports ATTN: Autograph Request P.O. Box 1948 Dawsonville, GA 30534
---

Comment | View 1 comment(s)
---
Chase Elliott NASCAR Success - March 20th, 2020
Sent LOR, SASE, 2TC to Chase Elliott on 12/29/19. Got them back signed today. Chase Elliott Chase Elliott Motorsports P.O. Box 1948 Dawsonville, GA 30534
---

Comment | View 1 comment(s)
---
Chase Elliott (NASCAR) - November 9th, 2019
Chase Elliott Chase Elliott Motorsports P.O. Box 1948 Dawsonville, GA 30534 Sent 10/15/19 Received 10/28/19 Signed 3 of 3 TC, DNS 1 AC. http://surfmypictures.com/image/4f5f20aa866b9f04/8rncg.html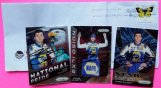 ---

Comment | View 1 comment(s)
---