Feedback received:


Wrestler Ole Anderson Success - October 13th, 2016
I used the address listed here, addressed it with his real name, with a SASE. He sent back my one WCW wrestling card and four 4x6 photos, all autographed. Very happen to get another one of the legendary Four Horsemens autograph. Very happy with. AWESOME. VERY HAPPY TO GET THIS ONE. THANKS AGAIN GUYS.
---

Comment | View 1 comment(s)
---
WWF Ole Anderson Success - September 23rd, 2016
Mr. Alan Rogowski 2284 Hwy 11 NW Monroe, GA 30656 Sent :9 /10/16 Received : 9/23/16 Success with Ole Anderson. Sent a letter with a WCW card and 4- 4x6 photos of the 4 Horsemen. He autographed the card and 3 of the 4x6 photos. JUST AWESOME !!! What a legend. I tried to upload my photos and envelope, but it won't let me. Sorry !!!
---

Comment | View 1 comment(s)
---
Ole Anderson Success! - June 2nd, 2016
On May 13, 2016, I sent an 8x10, LOR, and SASE to professional wrestling legend, Ole Anderson. On June 1, 2016, received my photo back signed by Mr. Anderson. Address: Ole Anderson 2284 Highway 11 NW Monroe, Georgia 30656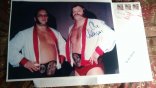 ---

Comment | View 2 comment(s)
---