Feedback received:


Whoopi Goldberg sucess - February 20th, 2020
I sent a letter , SAE, IRC and one photo. I sent it on 13.08.2019 Received: 21.01.2020
Whoopi signed my photo with dedication



. Address: Whoopi Goldberg Whoop, Inc. 1650 Broadway 14th Floor New York, NY 10019 USA
Uploaded with
Thank you so much!


---

Comment | View 1 comment(s)
---
Whoopi Goldberg Success! - September 10th, 2019
Sent: 17/07/2019, SASE, LOR, 3 pictures Received: 27/08/2019, 3 signed pictures Used address: Whoopi Goldberg Whoop, Inc. 1650 Broadway Suite 1400 New York, NY 10019-6985 USA http://surfmypictures.com/image/f4d409611d90b94c/rs8ox.html http://surfmypictures.com/image/f4d409611d90b94c/gbblc.html http://surfmypictures.com/image/f4d409611d90b94c/wo2pw.html http://surfmypictures.com/image/f4d409611d90b94c/me0j7.html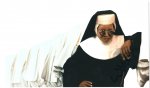 ---

Comment | View 1 comment(s)
---
Whoopi Goldberg Success - September 1st, 2019
Sent: 26/07/2019 - LOR, 2 photos, SASE Received: 21/08/2019 - 2 signed photos Address: Whoopi Goldberg Whoop, Inc. 1650 Broadway Suite 1400 New York, NY 10019-6985 USA Photo is on my website: https://autograph-world.blogspot.com/2019/09/103-whoopi-goldberg.html

---

Comment | View 1 comment(s)
---