Feedback received:


Carly Rae Jepsen authentic success on a postcard!!! - August 23rd, 2013
Hi! I was totally shocked when I saw this today! Sent: i dont know what because I sent her email and letter too, IDK which came back, but I sent both of them maybe 5-6 months ago. Rec.: postcard with authentic(?) signature! The return address was: 2220 Colorado Ave Santa Monica, CA 90404 - - - If you have an opinion, let me know maybe.




---

Comment | View 9 comment(s)
---
Carly Rae Jepsen Success - June 17th, 2013
I sent a SASE and LOR to this address sometime in spring or summer 2012: Carly Rae Jepsen Interscope Records 2220 Colorado Ave. Santa Monica, CA 90404 And today I received 4 stickers, one of them signed by her. Im not sure if its authentic because shes on tour right now. The return address on the envelope says: Carly Rae Jepsen 604 Records 101 - 1001 West Broadway Unit 362 Vancouver, BC V6H 4E4 Canada The stickers: - Close up of the autograph: - The envelope: - Let me know if you think the autographs authentic or not.



---

Comment | View 4 comment(s)
---
Carly Rae Jepsen RTS - January 22nd, 2013 | Address reported as RTS


Sent: December 2012 Received: January 22nd 2013 Address Used: Carly Rae Jepsen 604 Records 101 - 1001 West Broadway Unit 362 Vancouver, BC V6H 4E4 Canada Pic: http://img835.imageshack.us/img835/7434/photo2jiw.jpg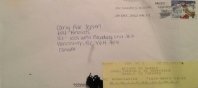 ---

Comment | View 1 comment(s)
---