Feedback received:


Jarrod Schulz and Brandi Passante (Storage Wars) Success - September 26th, 2013
Today I received three fan mail responses in one day! In one of my envelopes, I received a photo signed by Jarrod Schulz and Brandi Passante from Storage Wars! On September 26th 2013 I mailed them a fan letter and a self addressed stamped envelope, and received a very nice signed 4x6 photo that they provided in my self-addressed stamped envelope on September 26th 2013. This is a great success! Sent to Now and Then 810 North Tustin Street Orange, CA 92867 Scanned photos can be found at http://petersautographs.blogspot.com/20 ... sante.html - - ~Peters Autographs PetersAutographs.blogspot.com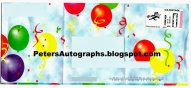 ---

Comment | View 3 comment(s)
---
Jarrod Schulz and Brandi Passante X2 - January 5th, 2013
Hello all im new hear and i love the forum this is my second success. Sent out on 12/20/12 Recieved on 01/04/13 They are my favorite on the show me and my wives favorite.. - btw i love the forum!

---

Comment | View 7 comment(s)
---
Jarrod Schulz and Brandi Passante Success - July 21st, 2012
this is my 2nd success since being on this site and my first Overseas success Sent: Friday 13th what: LOR, SAE and some dollars recieved:today Saturday 21st July what:A 6X4 pre-signed and dedicated photo and a Letter. address used: Brandi Passante and Jarrod Schulz 810 north tustins st Orange, CA 92867 - I only included $1 and my SAE had 3 stamps (which i think $1 wouldnt be enough) so they paid the rest of postage so sweet Im a Huge storage wars fan so i was like
when i saw my Luminescent pink envelope today!!!

---

Comment | View 3 comment(s)
---