---
---
Players you can contact at this address (2019 season):


Juan Agudelo (Forward), Brandon Bye (-), Scott Caldwell (Midfielder), Cody Cropper (Goalkeeper), Andrew Farrell (Defender), Zachary Herivaux (Midfielder), Cristian Penilla (-), Wilfried Zahibo (Midfielder), Teal Bunbury (Forward), Luis Caicedo (Midfielder), Antonio Delamea Mlinar (Defender), Brad Knighton (Goalkeeper), Brian Wright (Forward), Isaac Angking (Midfielder), Jalil Anibaba (Defender), Gabriel Somi (Defender), Matt Turner (Goalkeeper), Michael Mancienne (Centre-back), Edgar Castillo (Left-back), Nicolas Firmino (Midfielder), Carles Gil (Attacking midfield), Tajon Buchanan (Forward), Diego Fagúndez (Left winger), DeJuan Jones (Right winger), Juan Fernando Caicedo (Centre-forward), Justin Rennicks (Centre-forward).
---
How to send your fan mail and autograph requests to New England Revolution?:


If you want to request an autograph, follow the guidelines bellow. If you just want to mail a letter with the address above, and do not want anything back, then you can stop reading! If you live in USA send a properly stamped and self addressed envelope (minimum size 8.5" x 4") with your request letter and a photo. You can include a piece of cardboard to keep the photo from bending in shipping and also add "Do Not Bend" on the envelopes. Send your letter and wait. On average, there is going to be a 3+ month wait for a response. If you do not live in USA, you can purchase your american stamps here *For information on postage prices to receive a letter from USA click here.
---
Feedback received:


Femi Hollinger-Janzen MLS Success (New England Revolution) - September 25th, 2017
Sent LOR, SASE and CIC to: Mr. Femi Hollinger-Janzen c/o New England Revolution One Patriot Pl. Foxborough, MA 02035 Received my card back signed and personalized. Sent: 9/9/17 Received: 9/23/17 Uploaded with ###://surfmypictures.com:surfmypictures Uploaded with ###://surfmypictures.com:surfmypictures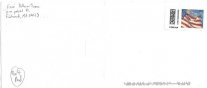 ---

Comment | View 1 comment(s)
---