Feedback received:


Danny Pudi success - June 26th, 2015
After sending to the wrong address, I re-tried with the correct one and received a pretty fast response from Community's Danny Pudi. I sent a LOR, one 5x7 photo, and a SASE to the address in the database on either May 27th or 28th (I lost my record but I know it was right after receiving a RTS) and received a response on June 18th (total of 21 or 22 days).
---

Comment | View 1 comment(s)
---
Danny Pudi RTS - May 27th, 2015 | Address reported as RTS


I received a RTS today, May 26th, the original of which I sent on April 18th. I'm not really surprised, although I see that there is a different address listed in the database now than the one I used. It might be my fault, but all it cost was a couple of stamps. Here's the envelope: Community hasn't officially been renewed, but Dan Harmon has said that he has no plans to stop anytime soon so there's a safe bet it will be returning at some point. Presumably, Danny will be on board for it, and I can then send directly to the studio once they start filming. I could also try the other (updated?) address listed. What do you guys think?

---

Comment | View 1 comment(s)
---
Danny Pudi (Community) "success" - December 13th, 2014
2014/08/19 - 2014/12/13 (116 Days) He signed my 5x7 with a wrong personalization... Address: Danny Pudi c/o David Shapira & Associates 193 N. Robertson Blvd. Beverly Hills, CA 90211 USA Uploaded with ###://surfmypictures.com:surfmypictures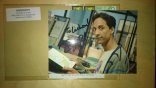 ---

Comment | View 1 comment(s)
---