Feedback received:


Jake Roberts RTS - September 6th, 2016
Received back today, sent to address in database on August 26th, 2016. Jake Roberts P.O Box 1317 Gainesville, TX 76241
---

Comment | View 5 comment(s) | Address reported as RTS

---
Jake "The Snake" Roberts WWF...fail... (Jake Roberts) - June 7th, 2012
Sent: 4/30/12 to the address in database. Was told via facebook he charges for this.



Uploaded with ###://imageshack.us:ImageShack.us *** Okay so his handler told me in an email it's $5 per card. So ask permission through email, send $5, send a card, and a SASE and you should have success with the addy in the database. The email is in the facebook reply above. **
---

Comment | View 7 comment(s)
---
Jake 'The Snake' Roberts*Paid*Success(Sort of) (Jake Roberts - May 24th, 2011
Alright, lets get the basics out of the way: Sent: 5/10/11 Recd: 5/23/11 Paid: $18.50 For those of you who dont know, Jake charges for his auto TTM, and you have to email his assistant for all of the details. I ordered a high quality picture of Jake putting his snake on Mr. Perfect (Mr. Perfect is my favorite wrestler of all time). What I got was a, by most peoples accounts, a standard quality picture. That was a little dissapointing. Secondly, if they allow it, Id suggest sending your own sharpie. The pen he used on my pictures was sub-par. Also, while were at it, just send your own picture, too. Also, Im assuming because Macho Man died before they sent out my picture, he also included a 5"x7" (or around that) picture of him getting the snake to bite Macho Man, also personalized and signed. I also sent a sheet of paper with four questions on it, hoping he would answer them, but all he did was write at the bottom Read, answers are all there. Jake The Snake Roberts. That was a dissapointment, but expected really. I wished I could have gotten a better response (better pen and picture quality), but I got what I wanted (somewhat). I just wish they would try harder, seeing how we have to pay for it. The envelope: - ###://www.flickr.com/photos/62056434 at N05/5754927959/:DSC01161 by ###://www.flickr.com/people/62056434 at N05/:dadtolibbs_com, on Flickr The picture I ordered: - ###://www.flickr.com/photos/62056434 at N05/5754909323/:DSC01163 by ###://www.flickr.com/people/62056434 at N05/:dadtolibbs_com, on Flickr A picture he included, most likely due to Macho Mans death. Thought it was a nice gesture. - ###://www.flickr.com/photos/62056434 at N05/5755454174/:DSC01165 by ###://www.flickr.com/people/62056434 at N05/:dadtolibbs_com, on Flickr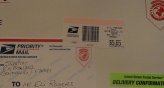 ---

Comment | View 5 comment(s)
---