---
Primary address:

Jeff Reardon
130 Thornton Dr
Palm Beach Gardens, FL 33418-8087
USA
Address information:


(Home Address)
130 Thornton Dr
Palm Beach Gardens, FL 33418-8087
USA
Phone:
Fax:

Note:
View larger map


---
How to send your fan mail and autograph requests to Jeff Reardon?:


If you want to request an autograph, follow the guidelines bellow. If you just want to mail a letter with the address above, and do not want anything back, then you can stop reading! If you live in USA send a properly stamped and self addressed envelope (minimum size 8.5" x 4") with your request letter and a photo. You can include a piece of cardboard to keep the photo from bending in shipping and also add "Do Not Bend" on the envelopes. Send your letter and wait. On average, there is going to be a 3+ month wait for a response. If you do not live in USA, you can purchase your american stamps here *For information on postage prices to receive a letter from USA click here.
---
Feedback received:


Ex MLB P Jeff Reardon success - November 3rd, 2017
Former professional baseball relief pitcher who played in Major League Baseball from 1979?1994 for the New York Mets, Montreal Expos, Minnesota Twins, and Boston Red Sox, Atlanta Braves, Cincinnati Reds, and New York Yankees. Reardon was nicknamed "The Terminator" for his intimidating presence on the mound and 98 mph fastball. A long-time closer, Reardon became MLB's all-time saves leader in 1992 with his 342nd save, breaking Rollie Fingers' previous record of 341. Reardon's record was broken the following season by Lee Smith. Reardon currently ranks 7th on the all-time saves list with 367. mailed photo 3-13-17 received signed 4-21-17 used: private resident address Palm Beach Gardens, Fl Note: per admin and other people who have complained here I won't post private address for privacy reasons. http://imageshack.com/a/img924/797/A0d56C.jpg
---

Comment | View 1 comment(s)
---
Jeff Reardon (Former MLB Player) Failure - August 26th, 2017
Sent: 8/16/2017 Received: 8/26/2017 RTS Does anyone have a valid address?! Used the one on the envelope. Thank you!!

http://surfmypictures.com/photo/560bc88b50f27dfe/d5z8b/JeffReardonFailure111.jpg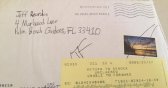 ---

Comment | View 1 comment(s)
---
Jeff Reardon MLB Success - April 7th, 2017
On April 3rd recieved a signed card back in 21 days from MLB Pitcher Jeff Reardon using the address in the database. Uploaded with ###://surfmypictures.com:surfmypictures

---

Comment | View 1 comment(s)
---