Feedback received:


Anthony Tyler Quinn SUCCESS - June 24th, 2016
Hi kim3303may

Thank you for your feedback

Would you have a scan of the envelope and picture you received please? If so, you are in the run for the $10 gift certificate.

###://www.fanmail.biz/109668.html:Anthony Tyler Quinn on Fanmail.biz | ###://www.fanmail.biz/feedback/Anthony_Tyler_Quinn.html:Previous Feedback(s) Received Fanmail

---

View 0 comment(s) | Comment
---
Anthony Tyler Quinn - Girl Meets World Success! - August 31st, 2015
Wrote to Mr. Quinn, also known as Mr Turner on the series, on 8/18/15. I sent him a then and now photo, a LOR a sharpie and a SASE. On 8/29/15 I received my photo back signed. Glad to see him back in the new series! With this success it brings my totals to 4 Danielle Fishel, 2 Ben Savage, 3 Will Friedle, 1 William Daniels, 1 Anthony Tyler Quinn and 1 Rowan Blanchard autos for the two series. Definitely going to try and work on more! Sent: 8/18/15 Received: 8/29/15 Address Used: Anthony Quinn c/o Momentum Talent 9401 Wilshire Blvd. #501 Beverly Hills, CA 90212 Photo: Envelope: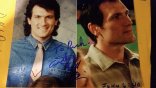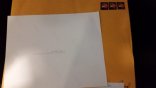 ---

View 1 comment(s) | Comment
---
Anthony Tyler Quinn (Boy Meets World) RTS - April 27th, 2012
Sent: LOR & SASE on April 18, 2012. RTS: April 27, 2012.

Fourth RTS this month!

I am having the worst luck! "Not deliverable as addressed; unable to forward." Address Used: Anthony Tyler Quinn Superior Talent Agency 11712 Moorpark Street / Suite 209 Studio City, CA 91604 USA

Envelope:
---

View 4 comment(s) | Comment | Address reported as RTS

---