Feedback received:


NBA Detlef Schrempf Success - March 26th, 2017
Sent a LOR, SASE, $10, and a TC to : Mr. Detlef Schrempf c/o Detlef Schrempf Foundation 1904 Third Ave Suite 339 Seattle, WA 98101 Sent : 3/10/17 Received : 3/25/17 Included a note saying that he doesn't provide personal requests, rather they provide a card already signed. http://surfmypictures.com/image/ad1a8c5 ... 0ktr9.html http://surfmypictures.com/image/ad1a8c5 ... z4m7p.html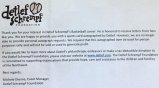 ---

Comment | View 1 comment(s)
---
Detlef SChrempf NBA Success - April 5th, 2016
I wrote a letter to Detlef Schrempf and sent him an index card , returned the unsigned index card and he included a basketball card signed - from him on the seattle supersonics , in my letter that was my favorite team . as I told him it was in my letter .I also got a typed note back saying in the future he will no longer respond to autograph request , I used the address on the database . Detlef Schrempf Detlef Schrempf Foundation 1904 third avenue Suite 339 Seattle , WA 98101 USA This request took 3 months to get back to me I am really happy I'm trying to work on getting other basketball players from Seattle Supersonics.
---

Comment | View 1 comment(s)
---
Detlef Schrempf NBA Success - April 4th, 2016
Sent LOR, SASE and TC to: Mr. Detlef Schrempf c/o Detlef Schrempf Foundation 1904 Third Ave. Suite 339 Seattle, WA 98101 Received an odd return. Received the original card I sent unsigned, but they included the gold version of the identical card that was signed, along with a note stating that Mr. Schrempf is no longer going to be able to do personal autograph requests. Sent: 1/26/16 Received: 4/4/16 Uploaded with ###://surfmypictures.com:surfmypictures Uploaded with ###://surfmypictures.com:surfmypictures Uploaded with ###://surfmypictures.com:surfmypictures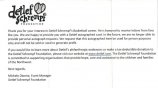 ---

Comment | View 1 comment(s)
---