---
---
Players you can contact at this address (2019 season):


Donovan Casey (Left fielder), Leo Crawford (Pitcher), Jeren Kendall (Center fielder), Chris Mathewson (Pitcher), Ryan Moseley (Pitcher), Logan Salow (Pitcher), Jordan Sheffield (Pitcher), Connor Wong (Catcher), Nick Yarnall (1st baseman), Wills Montgomerie (Pitcher), Brandon Montgomery (2nd baseman), Carlos Rincon (Left fielder), Sven Schueller (Pitcher), Edwin Uceta (Pitcher), Gerardo Carrillo (Pitcher), Drew Avans (Left fielder).
---
How to send your fan mail and autograph requests to Rancho Cucamonga Quakes?:


If you want to request an autograph, follow the guidelines bellow. If you just want to mail a letter with the address above, and do not want anything back, then you can stop reading! If you live in USA send a properly stamped and self addressed envelope (minimum size 8.5" x 4") with your request letter and a photo. You can include a piece of cardboard to keep the photo from bending in shipping and also add "Do Not Bend" on the envelopes. Send your letter and wait. On average, there is going to be a 3+ month wait for a response. If you do not live in USA, you can purchase your american stamps here *For information on postage prices to receive a letter from USA click here.
---
Feedback received:


DJ Peters (Rancho Cucamonga Quakes) - July 28th, 2017
I sent a baseball card to LA Dodgers prospect DJ Peters and he sent it back autographed and personalized to me. Great success. I'm happy. Sent it to Rancho Cucamonga Quakes this month July 2017.
---

Comment | View 1 comment(s)
---
Kip Wells MLB Success (Rancho Cucamonga Quakes) - September 23rd, 2016
Sent LOR, SASE and TC to: Mr. Kip Wells c/o Rancho Cucamonga Quakes P.O. Box 4139 Rancho Cucamonga, CA 91729 Received my card back signed. Sent: 6/3/16 Received: 9/23/16 Uploaded with ###://surfmypictures.com:surfmypictures Uploaded with ###://surfmypictures.com:surfmypictures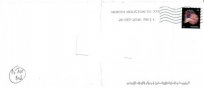 ---

Comment | View 1 comment(s)
---
Andres Santiago success (Rancho Cucamonga Quakes) - July 5th, 2012
Today, I got minor league player Andres Santiago, who is with the Class A advanced team of the Dodgers, the Rancho Cucamonga Quakes. He signed the 2011 card I sent to him, and also included a signed 2012 twelve card too! Also, he wrote me a nice message on an index card. A very fast response, only 8 Days. Sent: 6/27/2012 Recieved: 7/5/2012 Address Used: Andres Santiago 8408 Rochester Ave Rancho Cucamonga, CA 91730
---

Comment | View 1 comment(s)
---