Feedback received:


Katy Cavanagh (Corrie Julie Carp) Weird Success - October 3rd, 2015
This morning I just got back from a shopping trip and found a signed photo card from Katy Cavanagh who starred in Corrie until earlier this year. The thing is, it ended up at an address where I haven't lived for 19 years and somehow it's found its way to me... I don't even watch Coronation St and I don't ever remember sending for it. Here's the bits and bobs below. I couldn't begin to tell you where I would have sent it if I had remembered so I reckon it will have come from the filming location at MediaCity in Manchester.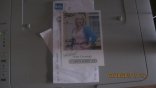 ---

Comment | View 17 comment(s)
---
Katy Cavanagh success ( Coronation Street) - July 25th, 2015
I sent a letter and SAE to Katy on: 28th April 2015, and in mid May 2015, I received this signed photo back

address I used was: Katy Cavangh, ' Coronation Street', No Longer Valid Here is the pic:

---

Comment | View 1 comment(s)
---
Katy Cavanagh success, Peter Gunn failure but William Roache - September 10th, 2014
I sent a photo, letter and SAE addressed to both Katy and Peter, as well as to 10 other cast members in one envelope on; 20th Febuary 2013, and on Thursday I recieved my photo back signed by Katy, but not by Peter like requested, but my William Roache too. Still really happy though.

address I used was: Coronation Street, Granada Television Studios, Quay Street, Manchester M60 9EA ADDRESS NO LONGER VALID, AS THEY HAVE MOVED TO SALFORD!! Here is the pic:

---

Comment | View 1 comment(s)
---